It's useful sometime to convert some type of audio files in another, and perhaps you don't want to search for the correct command to use from the terminal, don't worry there is a small and nice application that can do this for you: soundconverter
SoundConverter is an audio file converter for the GNOME Desktop. It reads anything GStreamer can read (Ogg Vorbis, AAC, MP3, FLAC, WAV, AVI, MPEG, MOV, M4A, AC3, DTS, ALAC, MPC, Shorten, APE, SID, MOD, XM, S3M, etc…), and writes to WAV, FLAC, MP3, AAC, and Ogg Vorbis files.
More than enough for my standard tasks.



SoundConverter Features

is

simple to use, with an intuitive interface

is

very fast and uses

multithreaded

conversion
is capable of processing many files with ease, CPU usage reduced.
Ability to rename files automatically
Installation
Soundconverter is usually available in all the repository of the major distributions.
In my Ubuntu 12.04 i see that in the repository is available the version 1.5.4-1, so you can install it simply with a
sudo

 

aptitude install

 soundconverter
Or if you prefer a newer release you can use the get deb repository, to add this external repository go to System-Administration-Software Sources, Third-Party Software tab, Add:
deb http://archive.getdeb.net/ubuntu precise-getdeb apps

Add the repository GPG key, open a terminal window and type:
wget

 

-q

 

-O-

 http:

//

archive.getdeb.net

/

getdeb-archive.key 

|

 

sudo

 

apt-key add

 -
Run from the terminal:
And now i can get soundconverter version 2.0.3-1~getdeb2~precise with the same command:
sudo

 

aptitude install

 soundconverter
Or as alternative you can use Ubuntu Software Center.


Basic usage
To convert a file, for example from wma to mp3 just start it, multimedia -> soundconverter or write soundconverter in a terminal, you'll see a very basic windows like this one: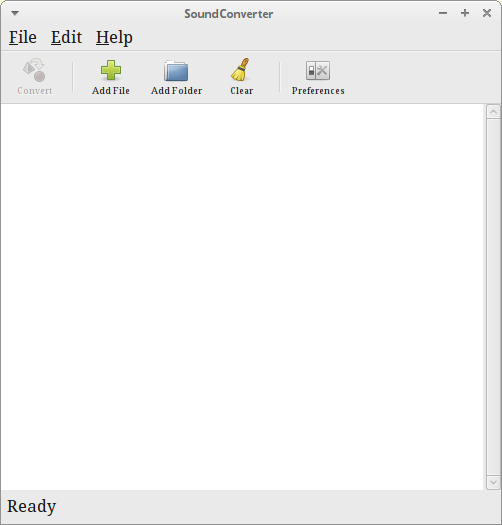 As first thing click on options you'll see a windows like this one: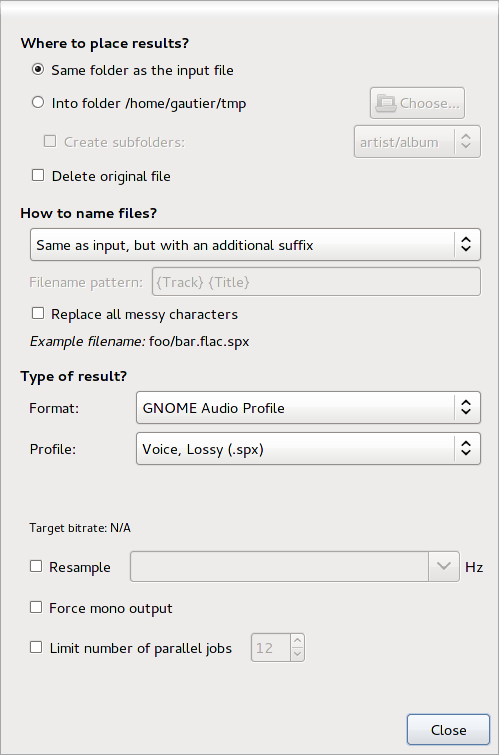 In this screen you'll have multiple options:
The first option is whether to place the converted audio files. It's pretty self-explanatory as you can put the new files in the same folder as the original files are into a folder of your choosing, you can also choose to delete the original file once that the conversion is done.
Second, is a nice feature where you can name the newly converted files based on the metadata (tags) with the audio files. There is a drop-down menu where you can choose pre-made options on how you want to name the new audio files or you can specify what you want in an input box.
Next is the option of choosing which audio format you want to have for your audio files. Depending on whether you have the libraries for all each format, you may only have some options. What's nice is when you choose an audio format, a drop-down menu will show up with the options of quality to choose from.
As last thing, you can choose whether or not to resample the audio you are converting to your needs.
Now click on Add file or Add Folder and select the music file or folder that you want to convert, you'll see the name of the files and their meta tag in the main windows, now click Convert and wait.
All done, simply and effective
Popular Posts: