A fundamental item for those who work according to ITIL best practices is definitely CMDB.
A configuration management database (CMDB) is a repository of information related to all the components of an information system. Although repositories similar to CMDBs have been used by IT departments for many years, the term CMDB stems from ITIL. In the ITIL context, a CMDB represents the authorized configuration of the significant components of the IT environment. A CMDB helps an organization understand the relationships between these components and track their configuration.
There are many commercial products that offer solutions that should cover every aspect of a company, but than you discover that these software are huge, difficult to manage and impossible to use and customize without the help of a consultant.
That is why today I will propose some open source software for create your CMDB.
The first site that I recommend you to visit is CMDB.info is a portal full of information concerning both the theoretical and practical aspects for the construction of a CMDB.
There are also solutions (including commercial) for both large and small companies that reality.
From the site: "The aim of this site is provide clear unbiased information to assist IT managers all over the world across many market segments to unravel the hype and to define exactly what it is they should be incorporating into their own CMDB strategies.
The site will be updated with regular updates as new technologies and new trends emerge in the market place. Solutions and software that are listed are done so due to their presence in the market and further suggestions are welcomed. We have left out any links and recommendations regarding Service Desk / Problem Management / Change Management due to the fact that organisations have such a wide variety of requirements in this area, but you will find that the solutions detailed on the enterprise solutions page will all have these offerings available."
IT Operations Portal: a complete open source, ITIL, web based service management tool including a fully customizable CMDB, a helpdesk system and a document management tool. iTop also offers mass import tools and web services to integrate with your IT
iTop includes:
A complete CMDB (Configuration management database) allowing IT operation to document IT inventory.
A Service Desk module allowing IT operation to track end-user requests.
An Incident management module allowing IT operation to track and communicate about all issues occurring on IT.
A change management module allowing IT operation to better deal with all the changes occurring.
A service management module allowing IT operation to document all the contracts and services they have under their control.
A known error database allows IT operation to document fix for known issue in order to speed resolution process.
An outage module allows IT operation to document all planned outages and notify concerned contacts.
Dashboards allow you to quickly get an overview of your IT.
Ad hock report allows you to control your IT.
OneCMDB is a CMDB aimed at small and medium sized businesses. OneCMDB can be used as a stand-alone CMDB to keep track of software and hardware assets and their relations. Thanks to its open API:s it can also be a flexible and powerful Configuration Management engine for other Service Management software.
OneCMDB is easy to install and populate with data, either by hand or from other data sources. It has a user-specified data model that can be altered and enhanced without programming. OneCMDB allows you to easily:
Create your CMDB datamodel, without writing a single line of code
Populate the database, through auto-discovery of your network
Get data from various external sources through a flexible import and transform mechanism
Import/export network configuration information to/from NAGIOS Network Monitoring System
OneCMDB is available for free download and comes with source code.
RapidOSS (built on RapidCMDB technology) is a pragmatic solution. It does not compete with traditional CMDB products. It is designed as a federated solution from the ground up (not an afterthought) to leverage existing systems and data sources easily.
RapidOSS is an integration, automation and presentation suite for IT operations management. It brings the leading web technologies into the IT management field, designed from the ground up as
an open solution to minimize implementation time and the total cost of ownership and maximize skills reuse.
RapidOSS is typically used to integrate management information from disparate management systems and present to users through a simple, unified, consistent web based user interface.
Some of the more common uses of RapidOSS include the following:
Event management (Enterprise Event Console)
Collect, consolidate, manage and present events
IT Operations Management Console
Access to all IT operations information from a single pane of glass
Web portal for customers and business users
IT management information is no longer only off interest for IT organizations. Provide visibility into the services provided by IT
Business Service Management
Add business context into IT management to align IT with the business objectives
Enhancing other management systems
Maximize the return on investment on existing systems
This site has been designed to provide an off line demonstration of the tools used in the CMDB.info toolset. Many of the pages will load up as images only, it is for demo puposes only. The web content, including the calendar has been designed under the PostNuke Content Management System.
ECDB is a collection of Open Source Tools designed for the Enterprise. Primarily they have been designed by Technical Specialists and provide only for the focused view of the problem at hand. Individually they all solve their respective problems very well, but collectively they provide for an extremely cost effective solution to an age old problem. A view of the overall technical environment.
Some of the key features are:
NMAP Port scanning and auto discovery of network devices. Database output accessible from web pages and exported to several formats.
NAGIOS Systems monitoring and Service host monitoring
Oreon NAGIOS Configuration Web Front End Configuration of NAGIOS config files is a difficult task. This graphical front end allows for easy definition of all conf files and uploads to NAGIOS
OCS Inventory An enterprise ready agent reporting Asset system. Load agents on windows and linux devices and have them report systems & WMI based data to a centralised web accessible database.
DOC System A document system that allows for auto reminders for doc reviews and updates. Ideal for corporate situations where documents can be released to third parties. Easy detailed browsing
WEBMIN The industry standard Linux based Administration System.
PostNuke Content Management System The industry standard Linux Content Management System.
Reference: http://opensource-cmdb.sourceforge.net/


i-doit – OpenSource solution for IT documentation
i-doit is an IT documentation system based on ITIL guidelines. It documents IT systems and their changes, defines emergency plans, displays vital information, and helps to ensure a stable and efficient operation of IT networks.
i-doit allows a rich amount of technical information to be filed for each element from a wall outlet to a mainframe in a structured way. Every employee can access this information easily (and in a selective way) through a web browser.
Due to its modular architecture, it is possible to deploy functionality add-ons or develop extensions.
This project sounds very interesting, thanks to its integration with Nagios and some TTS systems like Request Tracker and OTRS, unfortunately at the moment most of the documentation is only available in German.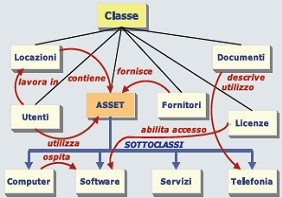 CMDBuild is a configurable web application to model and manage a database containing assets (CMDB stands for "Configuration and Management Data Base") and handle related workflow operations.
The aim is to let the operators have full control of the assets used, knowing exactly composition, dislocation, functional relations and history.
CMDBuild is a centralized management module working with databases and external applications: automatic inventory, documents management, text processing, directory services, e-mail, monitoring systems, intranet portals and other information systems.
CMDBuild is a flexible and user-upgradeable system and uses the best practices defined by ITIL (IT Information Library).
CMDBuild is released with GPL license.
CMDBuild application, if correctly configured and managed, offers to managers and IT operators answers to these common questions:
how many resources do I have
where is located a specific asset and who and how is using it
is it (the asset) part of something and what's his composition
which are the warranties or licenses expiring
do I have all the required software licenses
what's the asset life cycle
which are the connections between asset and network devices
changes to this asset implies changes to other assets
which are the jobs waiting for my action
who worked on an asset and when, with which authorization, what's the final result
CMDBuild 1.0 uses the most advanced planning principles and the best technologies available.
CMDBuild has a SOA (Service Oriented Architecture) architecture organized in several components and services available also through webservice interface.
The user interface has been completely rewritten using Ajax technology. This solution, part of web 2.0 world, ensures an intuitive approach to the application and a faster/better interaction with the system.
The server side language used is Java which is platform independent, object oriented, widely used all over the world to develop enterprise web applications.
J2EE specifications and library availability ensure that Java is a standard and professional solution for the world of web applications.
Other features are available thanks to some of the most diffused and appreciated open source components today available on the market: Ext JS, Enhydra Shark, JasperReports, Alfresco, etc.
The Database management system used is PostgreSQL, the most advanced and robust open source database.
Generally speaking, during the CMDBuild planning, we've chosen the most recent technology guidelines, the most efficient pattern designs and the most common standards today available.
Final words
With this overview I hope you got some ideas to think about. From a first glance at these products CMDBuild is what convinced me more, but is also the one where there is more work to do, it provides an excellent framework on which to build your own CMDB with CI and all reports and workflow you want and need for your enterprise..
Popular Posts: