Sometimes I find a long and interesting video on youtube or vimeo about Linux events or presentations, documentaries or movies that I'd like to see in a second moment, maybe when I'm offline or from my TV that has an usb port but no wireless. There are dozen of extensions for Firefox and Chrome to do this kind of task, but today I've found an interesting program that can download a video from a long list of website and convert that video into another format: xVideoServiceThief
xVideoServiceThief (a.k.a xVST) is an open source tool for downloading your favourite video clips from a lot of video websites (currently supports 93 websites ) and it also provide you the ability to convert each video in themost popular formats: AVI, MPEG1, MPEG2, WMV, MP4, 3GP, MP3 file formats.



Main Features of xVST
Download from Youtube & Co. – Download Videos from a lot of important Web Video Services: YouTube, Yahoo, Google Videos, Metacafe, etc…
Convert downloaded videos – Convert each video to one of most popular format: AVI, MPEG1, MPEG2, WMV, MP4, 3GP, MP3.
HTTP & RTMP support – Download almost any video from internet via HTTP and RTMP protocols.
Schedule configuration – Configure your own download shcedules and let the xVST to download your videos when you are not using your computer!
Search videos – Search videos inside the xVST and download (or play) them!
Pause and resume downloads – Pause, resume or cancel your downloads if you need more connection to perform other important tasks.
Session Manager – Save and Restore your download lists automatically.
Children protection – Disable adult website support and protect your children from porn sites.
Language manager – Install and uninstall languages inside the xVST and don't worry about download and install manually the new languages.
Installation
The software is available as binary package on the official website, the ffmpeg lib is not included, to enable the video conversions you should install the ffmpeg lib.
Or if you use Ubuntu or Debian and you prefer to install from a repository you can use the get deb repository, to add this external repository go to System-Administration-Software Sources, Third-Party Software tab, Add:
deb http://archive.getdeb.net/ubuntu precise-getdeb apps

To add the repository GPG key, open a terminal window and type:
wget

 

-q

 

-O-

 http:

//

archive.getdeb.net

/

getdeb-archive.key 

|

 

sudo

 

apt-key add

 -
Update now the list of packages available to your system, to do this run from the terminal:
And now you can get xvst with the command:
sudo

 

aptitude install

 xvst
Or as alternative you can use Ubuntu Software Center.
xvst usage
Now you can type xvst in a terminal or run the program from the menu, usually this program is located under Multimedia, the first screen you'll see is this one:
The first thing to do is to take a look at the options, to do this click on the lower right area, where it's wrote "more options" you'll see the following window: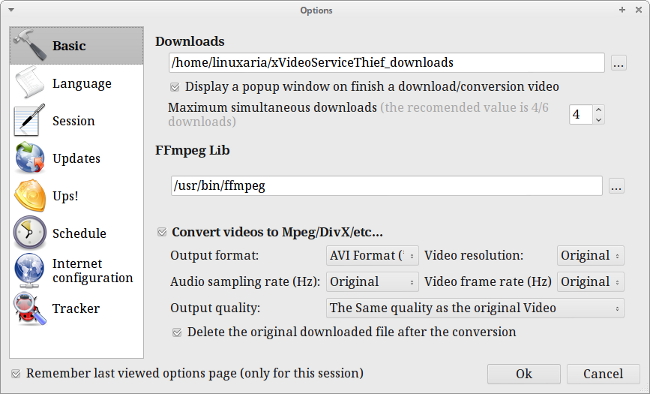 In this menu you can set the following options:
Downloads : here you can define the default folder where you want to download the movies.
FFmpeg Lib : Here you should see the full path to ffmpeg
Convert Videos to Mpeg/DivX/Etc. : This is a checkbox that you can set if you want to automatically convert all video into a new format, you can choose which output format , video and audio quality and if delete the original video once the conversion is done.
Now you can simply click on "add video" and type the url of the video you want to download, or as alternative click on the search icon (in the top right area the small icon with a magnifier) that will allow you to put a string to search on the known websites or just on some such as youtube or google video.


Conclusions
This program is not updated from some time, but i don't see this as a big problem, the software is really easy to use and with a few clicks you can download on your PC a large collection of videos coming from different sources.
Popular Posts: