Today I am pleased to publish an interview with Gabriele, leader of the project SalentOS, as well as owner of the interesting blog gmstyle.org , in the past we exchanged emails and articles and today I want to write a little more information about him and his project.
LX- Hello Gabriele, please could you introduce yourself ?
GM-My name is Gabriele and I am 26 years old. I have a degree in Sociology with a passion for computer science and, above all, for all that it is open source. I currently work in a call center for customer service in Lecce, while, earlier, I worked in a drug treatment facility for alcoholics, drug addicts and comorbid in which I did social group therapy. In addition to the current work that I do, I am responsible for the creation of websites based on Joomla, which I have become an "expert" self-taught, but also sites in HTML and PHP.
My other great passion is football and my favorite team: Lecce… Sunday is not Sunday if I do not see a lot of my beloved team 🙂
I also listen a lot of music ranging from genres such as soul, blues, R&B and hip hop up to the jazz, acid jazz, bossanova. The vast majority of the artists that I listen to and populate the cd and the keys of my car are all niche artists, that are never broadcasted in the Italian radio … unfortunately … of course all contrasts with what hears my girlfriend, she is very commercial and "classic Italian" in her musical tastes (music, that with all the effort possible, I can not hear!)
What can I say more … as last thing I am a gamer … I like video games and consoles. I own an Xbox 360 with which I enjoy playing FIFA online.
LX-And when you become an advocate of Linux and Open Source


GM- I've discovered Linux in recent times, and it's been overwhelming. It was 2008, actually not so long ago, when I switched completely to using a Linux system even though, before, I had relied on a virtual machine with Ubuntu 7.04 in a PC of my family.
At home I was constrained to using Windows because my younger sisters are the classic medium users in the use of the PC, while the the geek curious, stubborn, always trying to figure out why something happens and not another it's me. Then when I graduated and started working I could buy a laptop for me that I customized with Ubuntu 9.04 in dualboot with Windows 7.
Currently I own 2 Laptop: an HP 625 bought with Suse Linux Enterprise Desktop 11 and that was replaced with various distros (OpenSuse, Fedora, Debian), although currently I have installed on it an Ubuntu 12.10 Gnome Edition. On the second laptop, an Acer Aspire 1810T, there is SalentOS that I use in dual-boot with Windows 7.
LX-What made you decide to start the Ububox SalentOs project ?
GM-As I have said many times, the project was born because, taking full advantage of the power and freedom of movement of Linux, I decided to create an operating system tailored for my laptop. So I started to install the minimal version of Ubuntu, I chose Openbox as WM and default manager of the desktop, and after that I installed the software that I used normally every day. Of this "personal system" I made a copy on an installable live CD that I turned to a friend, Emmanuele, who, after seeing the system (I had called UbuBox) as well as be satisfied, he also told me that other people might appreciate the quality of my work. I was skeptical, I did not distribute a copy immediately and I continued to use it only on my PC, while continuing to customize it.
LX- Can you please explain the origin of the name ?
GM-The first name of the operating system was UbuBox simply Ubuntu + Openbox. I make a premise: In 2011 I lived in Piemonte for work and I felt a lot of nostalgia for my native land, Salento, where I returned only 1 or 2 times a year. My personal UbuBox was enriched with images of the landscapes of Salento which I used as wallpapers. This friend continued, meanwhile, to put the idea in saying that the system was very nice to see and especially lighter than the official versions of Ubuntu and that it could have some more fan besides him of course, if I had decided to put it online. I had just started my first web project: gmstyle.org, with whom I was addressing internet users with articles in order to solve some common problems in the Linux world. Of course, pointed out Emanuele, UbuBox could be linked to gmstyle.org, … in short, he convinced me and I decided to put online the version based on Ubuntu 11.04 as UbuBox SalentOS 11.04, just because the system was graphically inspired by my beloved land Salento.
LX – So, why Openbox ?
GM-Simply because Openbox, minimal and simple, guarantees high performance, little use of resources and stylish graphics on even old and dated computer. Openbox, in other words, gives me the guarantee of a lighter DE or WM than the others used on Ubuntu.
LX – And what about Razor-QT ?
Razor-QT is a young project. It is a DE that is constantly evolving but currently stable enough to run smoothly on an operating system. Then, on the draft SalentOS, I wanted to create an alternative to the version with Openbox and I chose to use Razor-QTsubstantially for these reasons:
– Use of the QT library in a lighter way than KDE.
– A young DE that is little, very little used on Ubuntu unlike others like Xfce or LXDE.


LX – Can i ask you what do you think about the last Ubuntu (12.10) ?
I installed Ubuntu 12.10 Gnome Edition on my HP 625 and I'm using it, I would say, with enough satisfaction. At present I am not a fan of Unity, which I find a little user-firendly, slow and not very efficient. I'm much more a fan of Gnome, in my opinion, the release of Gnome 3.6 is very much "fixed" from all points of view, both technical and usage for the users.
LX – The future versions of SalentOS will be based on Ubuntu or are you considering other distributions ?
As I have said on other occasions, SalentOS is Ubuntu based. I don't exclude the possibility to create, in the future, a third version based on Debian but at the moment, it's just an idea. I have to consider many things, including the amount of time to pursue the development of three versions, since at the moment I'm the only developer.
LX – What's the main website of the project and in which languages it's available ?
The official website of SalentOS http://salentos.it is available in two versions, English and Italian. The English version is the official one, this is because with the latest version of SalentOS it has become available for international users and not only for Italian.
LX – Except for SalentOs, what are your favorites distros, and why?
I think that Debian is my favorite, followed by the other: Ubuntu, Fedora and Arch Linux. Managing a project as SalentOS, which is Ubuntu based, currently I use much more Ubuntu than Debian because I have to take an eye on the evolution of this distro as it's the mainstream of my project.
LX – Have you got any other project for about Open source or Linux ?
Not at the moment. The management of the project SalentOS and gmstyle.org take up all the extra time available to me … then there's my girlfriend .. : D
LX – Could you give us a screenshot of the desktop you use everyday ?
Sure, this is my Razor-qt SalentOS.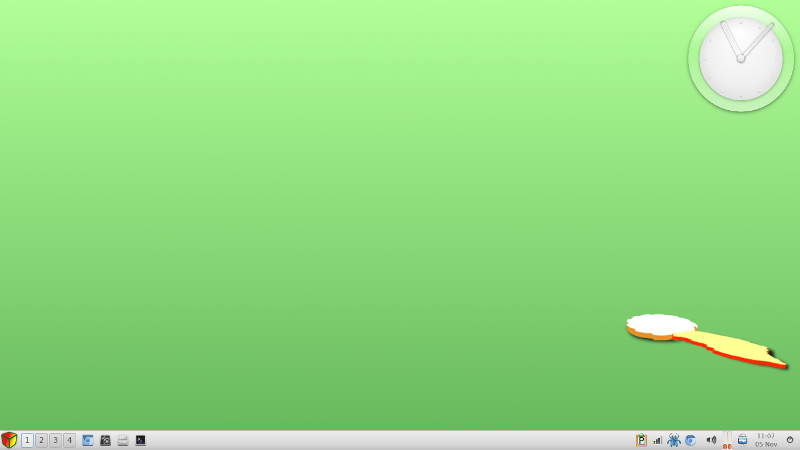 GM- While this is my Ubuntu 12.10 Gnome Edition 🙂
LX – If someone were interested in joining your project, what would they need to know and how would they get in touch?
Honestly, I'd love to have two or three people who could help me. At the moment I take care of everything from the graphics system to the publishing of content online. Anyone wishing to join the project, please contact me via e-mail through the official website of SalentOS through gmstyle.org, via Twitter or Google+. I'd like to have:
– 1 person who manages the social relationships, to be entrusted with the management of the official pages of SalentOS on social networks.
– 1 person more experienced than me in graphics that can work with me for the graphics (wallpapers, themes and boot screen). A person who knows how to use open source tools like GIMP, Inkscape and Blender better than me (and trust me, it does not take much!)
– 1 person that can help me with the technical side. Let me explain … the next step I have in mind is the creation of an official repository for SalentOS on Launchpad and then would need a person who can take care of it and update it regularly.
The project is open to all those who want to work with passion and freedom. Contact me by mail at:
contattagmstyle at gmail dot com
LX – Thanks Gabriele, there is something you want to add to this interview ?
I guess that's enough 🙂 Add a heartfelt thanks to you Riccardo for the care that you have shown toward the project SalentOS, beginning with version 11.4, and I also thank infinitely Prof. Antonio Cantaro of the Institute Majorana, both for the interest in SalentOS and for the great work he do in relation to information of open source technology, he has become the first supporter in Italy in the schools, so much that the Technical Institute Majorana in Gela has become a model in our country.
LX-Thanks again to Gabriele for his time and for the time he spends in this project, I recommend do not be shy and contact him to help him, there's definitely a lot to do.
Popular Posts: