Usually I'm not so precise and methodical and so I've never used a program of this type to keep track of my expenses, but the other day I wondered if Linux had some software in this category, and I was amazed by the variety and quality of software available for our beloved Penguin.
So here's a roundup of the software in this category.



The first software in this roundup must be GnuCah, this is one of the most famous software in this category and is known also by people that don't use these software(like me).
GnuCash is personal and small-business financial-accounting software, freely licensed under the GNU GPL and available for GNU/Linux, BSD, Solaris, Mac OS X and Microsoft Windows, the last version is GnuCash 2.4.10-1 released on – 2012-02-12.
Designed to be easy to use, yet powerful and flexible, GnuCash allows you to track bank accounts, stocks, income and expenses. As quick and intuitive to use as a checkbook register, it is based on professional accounting principles to ensure balanced books and accurate reports.
At the first run a wizard offers the options to create a new set of accounts, import QIF files or open the new user tutorial. Can import financial data from Quicken, MS Money and other programs that use the QIF or OFX file formats.
The help file is really good. Not only does it explain how to use Gnu Cash but it introduces many accounting concepts that help in using the software like debits and credits.
Because it sticks to double entry accounting, the standard accounting method, GnuCash is not as easy to use from the start as some other programs of this category, unless you already have some experience with double entry systems. As with the original paper based double entry system, it takes a little getting used to, but once you get the hang of it, this is the best way to work – that's why the professionals use it.
You could be also interested in another article on how to keep all the info of GnuCash online, so you can manage them from different computer.
KMyMoney is the Personal Finance Manager for KDE. It operates similar to MS-Money and Quicken, supports different account types, categorisation of expenses, QIF import/export, multiple currencies and initial online banking support.
KMyMoney retrieves online stock quotes. Personal finance reports can be configured a number of ways, and KMyMoney widgets can be installed to add further functionality such as a pop up calculator and date selection calendar.
Features:
Personal finance manager easy to use
Online transactions (OFX and HBCI).
Many predefined reports and graphs.
Importing QIF to obtain historical data in KMyMoney.
Documentation for users of more than 160 pages.
Moneydance is a personal finance software application developed by Reilly Technologies, USA. Written in Java, it can be run on many different computers and operating systems. Under the hood, Moneydance implements a double-entry bookkeeping system, but the user interface is geared towards non-accountants.
Moneydance was started as an open-source project in the summer of 1997 by Sean Reilly (who is still the primary developer), but was converted to a closed source product soon thereafter. In 2008, his company changed its name to The Infinite Kind, LLC.
Moneydance implements the OFX protocol to perform online banking and bill payment. Other features include check printing, flexible graphing and reporting, scheduled transaction reminders, transaction tags, VAT/GST tracking, budget management and tracking, file encryption, and investment portfolio management.
PLCash is free personal finance program which you can download and use for free of charge. PLCash allows user to create and manage personal financial accounts, create reports and analyze your transactions, import and export data from other financial programs as well as import prices to track the performance of your investments and more.
The software is wrote in Java and available on different platform.
PLCash uses the most transparent, obvious, human-readable data records imaginable: plain text. This means if you want to move to another program, or if you want to analyze records in ways not possible within PLCash, you can simply read your PLCash records with the program of your choice — virtually all spreadsheet and word processing programs have no problem reading PLCash data files.
On that note, because PLCash data files are unencrypted and human readable, you will want to preserve and protect your data files if you are concerned about third parties reading your data.


Grisbi is a personal accounting application running under GNU/Linux and Windows, released under the GPL licence.
Grisbi can manage multiple accounts, currencies and users. It manages third party, expenditure and receipt categories, as well as budgetary lines, financial years, and other informations that makes it quite adapted for associations (except those that require double entry accounting).
Grisbi can import accounts from QIF, OFX and Gnucash files. It can print reports using LaTeX or export them via HTML.
Features:
Graphical user interface
Multi-account Handling
Totally customizable financial printable reports
Scheduled Transactions
OFX, QIF, GnuCash, CSV (in development version) Import
QIF, CSV Export
Multi-Currency Transaction Handling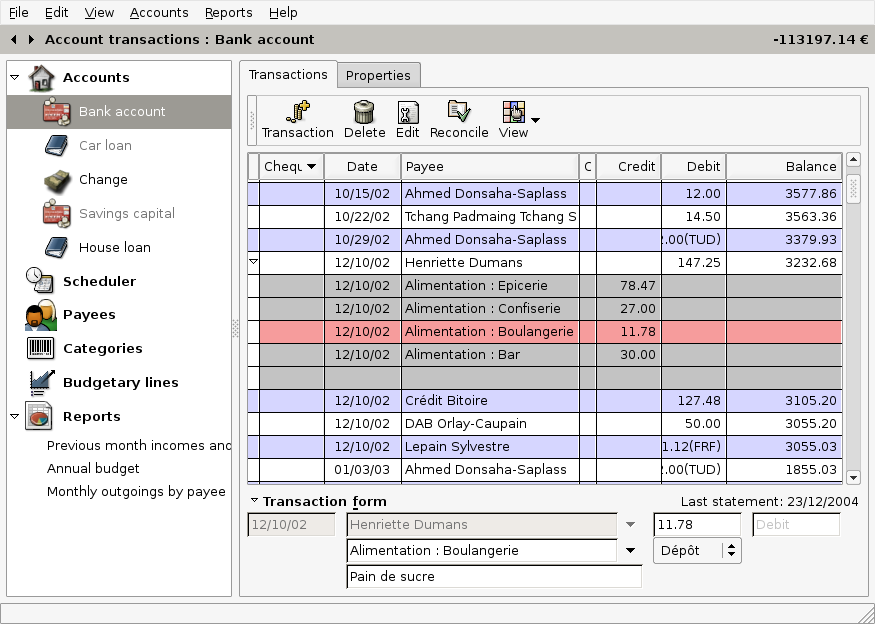 jGnash is a free personal finance management application. Along with typical features of software of the genre, this program features skinnable menu-driven user interface and with users' plugins. jGnash is cross-platform: jGnash 2 will run on any operating system that has a working Java 1.6.0 Runtime Environment
Features:
Double-Entry Based Transactions
Report Generation in PDF Format
Fast Auto-Completion of Form Fields
Schedule Recurring Payment Reminders
Support for Multiple Currencies
Track Investment Accounts and Transactions
Online Updates of Stock Prices and Currency Exchange Rates
Customizable User Interface
Scriptable through BeanShell (jGnash 1) or JavaScript (jGnash 2)
Advanced Server/Client Networking Architecture
OFX Import
QIF Import
Buddi is a personal finance and budgeting program, aimed at those who have little or no financial background. In making this software,the developer has tried to make things as simple as possible, while still retaining enough functions to satisfy most home users.
Buddi is released as Open Source Software and will run on almost any computer which has a Java virtual machine installed. This can include Windows, Macintosh OS X, Linux, and many other operating systems.
Start using Buddi is very simple. The interface is clear, as the process of creating accounts, transitions and all the movements that you might be interested in logging. There are predefined categories, but of course the program is fully configurable and you can create new ones without problems.
Another advantage of using Buddi is the ability to create charts and tables without too much difficulty. In seconds you can have your report ready in HTML format. The data stored in the database Buddi is not available to anyone accessing the computer, if you want you can protect them with a password.
Lazy8Ledger is free open source program that is available for free of cost. The app is a free account software that simplifies your accounting problems and you can us the app for your small business and personal work. You can create and manage any type of bookkeeping activity and break out the entries and transactions to any number of accounts.
There are numerous standard reports that are the basis of accounting needs and then there are tools to make your own reports. You can customize your reports as per the standards prevailing in your industry. However, the software design includes the well accepted report formats which you can use directly that will save your time and you need not format your own report layout.
This open source accounting software is designed with all important advanced tools that you require for effective book-keeping. However, the app should be used by the users who have sound knowledge of the book keeping and take care of the entries made by them. This free accounting software is so simple that home users or small business enterprises can use it. Reports can be seen in a print preview window and all reports may be saved in PDF, Excel, HTML, CSV, or text format.
Popular Posts: