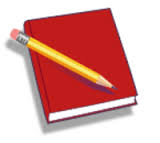 Documenting processes and systems or just keeping a diary of the daily happenings are things that many computer users are doing very often. RedNotebook is a professional application that allows you to create a log or journal of all those tasks as well as document issues with your network. The app can be seen as a professional journal for IT experts, although it can also be used by home users as well.



When it comes to the professional use, RedNotebook brings a plethora of features that are very useful in this environment. First of all, it allows you to tag items, format texts, insert files, images or links, spellcheck texts, perform automatic saving and so on. With the help of RedNotebook you can also store the data you want in plain text files and backup it to an archive, or you can use word clouds (most often used words and tags).
A feature that we found very useful in RedNotebook is the ability to export all data to PDF, Latex, HTML or even plain text without any hassle. This makes it much more convenient to access the necessary data without having to deal with problems that the app provides a single format, as that is definitely not the case.
The interface brought by RedNotebook is very appealing, in fact it offers quick access to all the necessary functions right from the main interface. You can choose to enter a new entry which can be either simple or you can use a template. We found it very useful that RedNotebook comes with a ton of templates that are suitable in various situations, so no matter what entry you need to create, you are bound to find a template for it.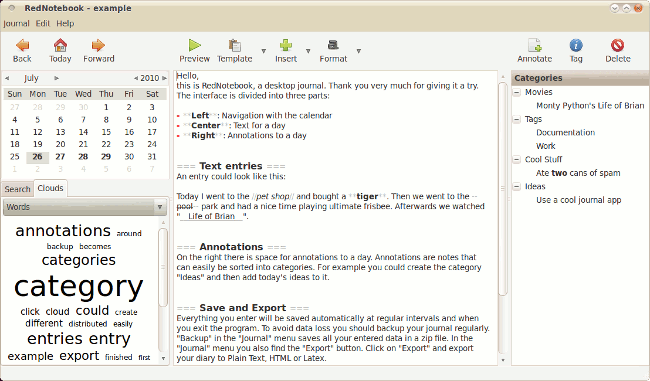 RedNotebook's word cloud is filled with tags and words that you can use, and these work seamlessly if you want to find similar entries on a certain topic.
Annotating images and posts is very simple, and so is tagging. We found no problems when it comes to running and installing the app, mainly because RedNotebook is a long lasting project with numerous developers and users behind it, so most of the bugs are already ironed out. Instead, you get a stellar and very interesting experience rather than a buggy one. Managing the calendar in RedNotebook is very simple, in fact we found it very easy to browse the dates in order to find a certain entry. It's neat to see that the app comes with a Today button that allows you to access the current date immediately.
The wiki-style approach to journaling, be it for business or personal use just makes RedNotebook a lot more convenient than any other similar programs. All entries are indexed in a natural manner and overall everything is very easy to browse, which is stunning. Sure, there are a few hiccups here and there but RedNotebook successfully manages to bring an experience with which you can get accustomed without that much effort.
Overall, we found RedNotebook to be a very interesting application that's close to perfection in regards to the things that it wants to achieve. Indexing is very fast, browsing entries is quick and reliable, and checking entries in the cloud is just as easy. Overall, RedNotebook is a good example in regards to how a professional journaling tool should look like, and if you need such an app, then RedNotebook is a wonderful choice to make!
8/10
Popular Posts: