If you are having problems with getting good educational software that is affordable, then think again because Linux is here for you. Okay what a lot of people are not aware of is that there is a lot of wonderful educational software that can be used on the Linux operating system. Of course Linux as you may already know is open source and freely distributed, which means that it is also free. Now here is a list of the different educational software that you can use on the Linux operating system.
This educational software is actually designed for kids to make their use of a computer an easy as well as pleasant experience. And, it is suitable for children who are two to twelve years of age. As you might have already guessed from its name, this software is a special "flavour" of linux patched to be used by childrens and it is absolutely free. Now with this software your child can learn how to make use of the mouse by forming different patterns with every movement of this computer accessory.
But DoudouLinux also makes it easy for Dad and Mum. Available as an autorun CDROM, DoudouLinux does not need installing. It does not touch the data in the computer it runs on, nor the system installed on the computer. Shipped with built-in content filtering, it prevents children from accidentally visiting unsavory web sites. You can carry it everywhere and let children on any computer without worrying. DoudouLinux can be lent, offered, loaned, copied as often as you want. Just like they do on the school playground! This is fully legal, so DoudouLinux is really risk free from all points of view.
To conclude, DoudouLinux is made with free software —free as in freedom. This means that you can use, copy, distribute, lend or even modify DoudouLinux as you want, freely and without hidden fees. Therefore, children can have it everywhere on any computer, and they can give it to any of their friends just as they do on the school playground. With DoudouLinux, absolutely no trouble!
ATutor is an Open Source Web-based Learning Management System (LMS) used to develop and deliver online courses. Administrators can install or update ATutor in minutes, develop custom themes to give ATutor a new look, and easily extend its functionality with feature modules.
Teachers making use of the ATutor online software will be able to manage their courses plus provide students with a means by which they can keep a tab on their coursework. Also, this application makes it possible for tests, assignments, grades, etc. to be posted. With it accounts can be created by students who can equally keep a close eye on their specific classes or assignments whenever.
GCompris is similar to DoudouLinux above in that it is used in educating little children who are two to ten years of age. It achieves this much in the same way as DoudouLinux does as expected through different activities plus games. Now a number of these activities focus on helping kids to better understand the way to make use of a computer. With others focus on teaching standard subjects like math, science, algebra, reading, and geography. Presently, GCompris offers more than 100 activities and it is completely free.
KWordQuiz is the KDE version of the flashcard and vocabulary learning program WordQuiz and is published under the GPL.
KWordQuiz can read and write WordQuiz files. KWordQuiz also supports the KDE vocabulary document format .kvtml.
This application is flash-based, and it is geared towards vocabulary learning. Even though this does not mean it cannot be used for learning several other subjects. And, so can read as well as write WordQuiz files. An outstanding feature that KWordQuiz has is that data files of different subjects such as history, music, anatomy, etc. can be downloaded with it.


This is a strong instructive tool, which allows a person to watch as well as control computer systems for educational reasons.
With it one can lock computers, plus remotely reboot or even shut-off machines. A good thing about iTalc is that it is free with its source-code freely available for subsequent change to meet each user's need. And, apart from Linux, it can also support Windows XP, Vista as well as Windows 7.
Features
iTALC has been designed for usage in school. Therefore it offers a lot of possibilities to teachers, such as
see what's going on in computer-labs by using overview mode and make snapshots
remote control computers to support and help other people
show a demo (either in fullscreen or in a window) – the teacher's screen is shown on all student's computers in realtime
lock workstations for moving undivided attention to teacher
send text messages to students
powering on/off and rebooting computers per remote
remote logon and logoff and remote execution of arbitrary commands/scripts
home schooling – iTALC's network-technology is not restricted to a subnet and therefore students at home can join lessons via VPN-connections just by installing iTALC client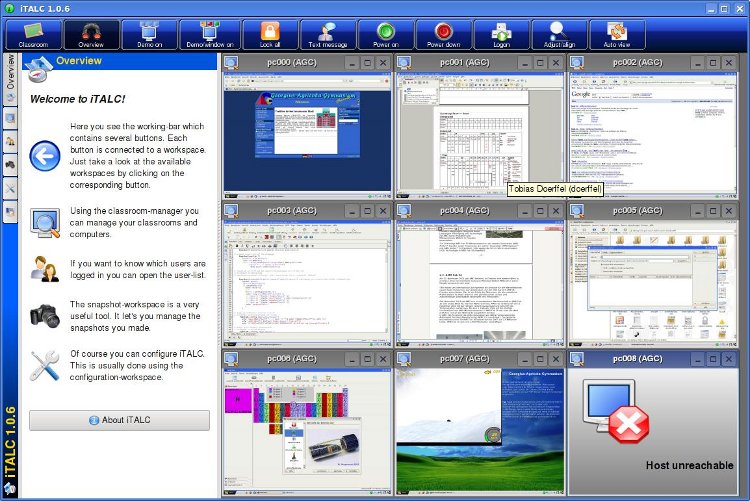 FET is an open source free timetabling software-tool. It can be used to automatically schedule the timetables of any school. Normally, this software can use a maximum of 20 minutes to solve a complex timetable. For timetables that are simpler it will usually use less than 5 minutes. The latest version of FET that is FET-5.18.2 was released on the 4th of September, 2012.
FET is accessible after extraction, so there is no need to install the program. The application is free, so if you have the patience and the free time to spend hours with the program's instructions and Help file, then FET-Free Timetabling Software might be a solution for you.
The last item to be listed here is an education-oriented distribution from Linux designed for use in classrooms inside schools, homes and communities. It includes software, tools, themes and content. And, is actually an operating system that is education-focused. Several applications ship with this operating system. This includes GCompris, Dia, Gobby, iTalc, Kig, Kalzium, Kmplot, Gnu Paint, Inkscape, among others.
The primary goal of Edubuntu is to enable an educator with limited technical knowledge and skills to set up a computer lab or an on-line learning environment in an hour or less and then effectively administer that environment.
The principal design goals of Edubuntu are centralized management of configuration, users and processes, together with facilities for working collaboratively in a classroom setting. Equally important is the gathering together of the best available free software and digital materials for education. According to a statement of goals on the official Edubuntu Website: "Our aim is to put together a system that contains all the best free software available in education and make it easy to install and maintain."
Author Bio: Jason Phillips wrote this post. He enjoys writing for texas university to share her knowledge on teaching and staying organised in the classroom.
Popular Posts: