Perhaps this is really the year of gaming on Linux, if you are reading this post probably you are interested in gaming and Linux, and I've got a good news for you : there is a big sale of games for Linux on Steam until FEB 21, 10AM PST.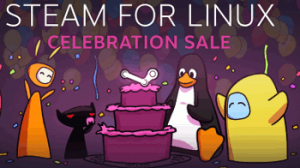 They are all closed source games, and you must pay for them (well almost for all) but I'm not contrary to this by principle and I see in this sale a big opportunity to help other user to drop their second partition with a windows and switch totally to Linux.
Which games are available ?
A lot, really, let's see a look at some of my favorite.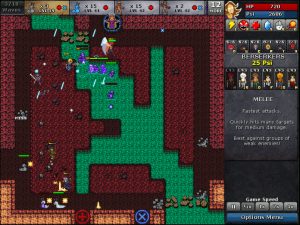 Cost while on sale = 13,99€ -50% = 6,99€
Defender's Quest is a Tower-Defense/RPG Hybrid (Think Final Fantasy Tactics meets Tower Defense).
Defender's Quest tightly focuses on three things: tactical depth, customization, and story. That means no random encounters, no spikey-haired emo kids, no forced time sinks, and no tedious, repetitive battles.
The battle system builds off of tower defense, with individual characters taking the place of towers. Each character levels-up, learns skills, and equips gear individually, allowing the player to customize their battle experience and strategy. The overall game structure is similar to "tactical" RPG's, but with a real-time battle system. Game speed is adjustable, and commands can even be issued while the game is paused.
The graphics is nothing exceptional to be honest, but who cares, the game has interesting characteristic and mixes 2 of my favorite games type.
Cost while on sale = 39,99€ -75% = 9,99€
The Dark Ages might be drawing to a close, but Europe is still in turmoil. Petty lords vie against beleaguered kings who struggle to assert control over their fragmented realms. The Pope calls for a Crusade to protect the Christians in the Holy Land even as he refuses to relinquish control over the investiture of bishops – and their riches. Now is the time for greatness. Expand your demesne and secure the future of your dynasty. Fill your coffers, appoint vassals, root out traitors and heretics, introduce laws and interact with hundreds of nobles, each with their own agenda.
A good lord will always need friends to support him. But beware, as loyal vassals can quickly turn to bitter rivals, and some might not be as reliable as they seem… Stand ready, and increase your prestige until the world whispers your name in awe. Do you have what it takes to become a Crusader King?
Crusader Kings II explores one of the defining periods in world history in an experience crafted by the masters of Grand Strategy. Medieval Europe is brought to life in this epic game of knights, schemes, and thrones…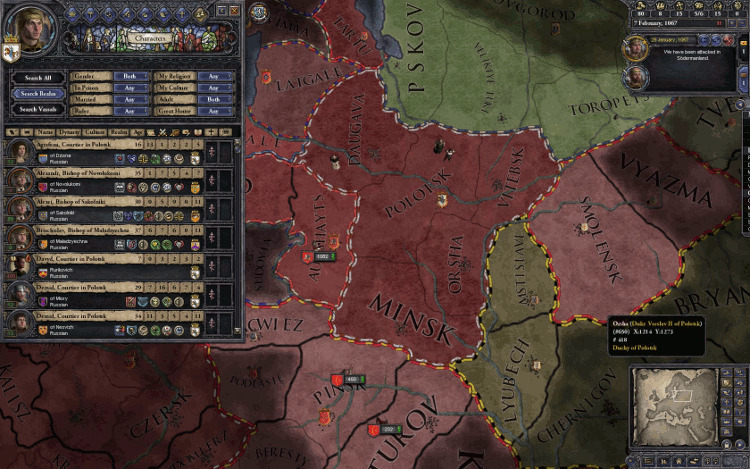 Cost while on sale = 9,99€ -50% = 4,99€
In FTL you experience the atmosphere of running a spaceship trying to save the galaxy. It's a dangerous mission, with every encounter presenting a unique challenge with multiple solutions. What will you do if a heavy missile barrage shuts down your shields? Reroute all power to the engines in an attempt to escape, power up additional weapons to blow your enemy out of the sky, or take the fight to them with a boarding party? This "spaceship simulation roguelike-like" allows you to take your ship and crew on an adventure through a randomly generated galaxy filled with glory and bitter defeat.


Cost while on sale = 14,99€ -75% = 3,75€
The last remaining memories fade away into darkness. Your mind is a mess and only a feeling of being hunted remains. You must escape.
Awake…
Amnesia: The Dark Descent, a first person survival horror. A game about immersion, discovery and living through a nightmare. An experience that will chill you to the core.
You stumble through the narrow corridors as the distant cry is heard.
It is getting closer.
Explore…
Amnesia: The Dark Descent puts you in the shoes of Daniel as he wakes up in a desolate castle, barely remembering anything about his past. Exploring the eerie pathways, you must also take part of Daniel's troubled memories. The horror does not only come from the outside, but from the inside as well. A disturbing odyssey into the dark corners of the human mind awaits.
A sound of dragging feet? Or is your mind playing tricks on you?

I already bought this game some humble bundle ago, and I have never regretted this choice.
Well, I just finish to download Crusader Kings, so it's time to "test" it, have fun with your favorite game.
Popular Posts: