Article By Oussama Krifa
You are a Linux user, addicted to Facebook, tired from getting your web browser open all the time on the Facebook page, and searching for a Linux application that can use Facebook chat without losing the performance and the features ?
You are on the right track, as you are going to discover an application that will help you to be efficient when working on your pc, by having both your job and your social activity on your desktop and between your hands.
This is an unofficial application called Facebook Messenger, developed by Facebook developer, which acts unlike other software, as a 100% Facebook messaging client. It is an alternative to the official application "Facebook Messenger For Windows".
The software don't has any new features, instead it focuses on the essentials, in order to provide a fast, lightweight and functional application to access your Facebook profile and check friend's messages, requests and updates.



Interface:
The interface is clear and simple. First you have to login to your Facebook Account by entering the email address and the password in the corresponding textboxes as you see in the figure.
After logging in successfully you pass to the main window which is clear and simple.
It displays the Facebook Ticker containing real time updates, online friends list and a search bar to chat with offline contacts.
On the top-left of the current windows, you can check friend requests, messages and notifications.
And finally, in the bottom-right corner you can go offline or logout from Facebook.
You can click on the name of a friend and start chatting, a new little window then appears and you can begin writing and use emoticons.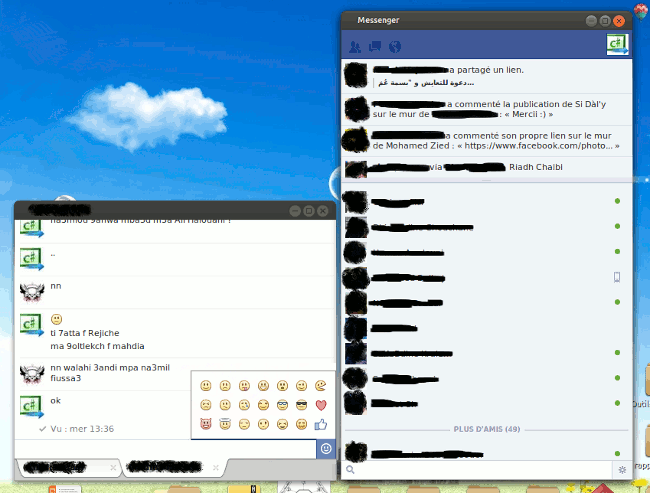 Features:
Facebook Messenger offers many features such as:
Chatting with your Facebook friends (obviously) in a separate window with tabs for each conversation, conserving the same layout as the web version of Facebook.
Receiving Notifications and friend requests. Notifications, once clicked, are opened in a the web browser and friend requests can be accepted or refused directly from the software.
Receiving Friends' status updates, and keeping an eye on news feed while working on your PC.
Getting Desktop popup alerts for notifications (only when you turn the chat on).
Installation:
If you are using a debian based Linux distribution (such as Debian, Ubuntu and Mint) you can simply install Facebook Messenger by opening a terminal and typing the following commands.
sudo

 add-apt-repository ppa:nilarimogard

/

webupd8


sudo

 

apt-get update




sudo

 

apt-get install

 fbmessenger
Or, if you are using Arch Linux, you can install Facebook Messenger via AUR https://aur.archlinux.org/packages/fbmessenger-git/.
Otherwise, you have to download the source code package from Github: https://github.com/oconnor663/linuxmessenger and compile it yourself, more instructions and information can be found there.
For Windows users I would remind you that an official Facebook desktop client exists for Windows, you can search for it and install it easily.
Conclusion:

Now that you have known a lot about Facebook Messenger and have installed it, feel free to get disturbed by your Friends on your desktop :D.


Popular Posts: