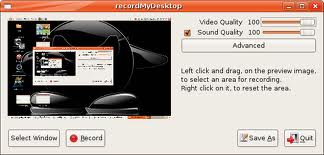 After reading the article "How to create a screencast of your Linux desktop" I started doing some test of screencast with the program recordmydesktop.
In particular, I did some testing with both the gtk frontend to the command line, but unfortunately in the first trials i was not able to get any sound in the video.



But first a small step back.
recordMyDesktop is a desktop session recorder for GNU / linux
that attemps to be easy to use, yet also effective at it's primary
task.
As such, the program is separated in two parts; a simple command line tool that performs the basic tasks of capturing and encoding
and an interface that exposes the program functionality in a usable way.
The commandline tool (which essentially is recordMyDesktop),
is written in C, while there are two frontends, written in python with
pyGtk (gtk-recordMyDesktop) and pyQt4 (qt-recordMyDesktop).
After some research on google I read that the most common reason for this problem is the setup of your mixer.
I then started doing a lot of tests with alsamixer and the sound mixer of xfce, but I must say that i fail with all of them, until I found a post on ubuntu forums that spoke of using pavucontrol.
I then installed pavuncontrol and simply changing on its screen the output device has got everything to work correctly, how to do it ?
Follow this very short screencast.
So to make it short:
aptitude install pavuncontrol
open pavucontrol from your menu -> multimedia (or where you have it)
start a video a song or whatever cause your computer to sue audio
start recordmydesktop
in pavucontrol go in the tab "recording" and change the device associated with recordmydesktop
All done.
Popular Posts: