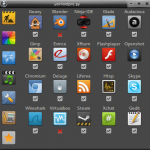 A few months ago I switched from Gentoo to Arch Linux as Linux distribution on my PC at work, and at the moment I am very happy with this distribution, but there is to say it is not so easiest to use for newcomers to the Linux world and so they typically approaches the most popular and user friendly Ubuntu.
Yo I'm Not Pro or Yoimnotpro center is a simple app center that allows you to graphically install some of the most common and useful packages available for this excellent distribution in a more simple way and therefore can help to bring some more users to this excellent distribution.
At the moment, there are 82 predefined applications. The program checks whether those program exists and will display an appropriate image – X not installed, Mark sign means installed. If the program is not installed by clicking X it will install it, if you click again it will remove it. There are tooltip text, just hover your mouse over the wanted application icon or it's install/remove button to see those texts in action.
The developer was inspired by Zorin OS and GNOME 3 to create this program.
Archlinux support
Archlinux users can install the program directly from AUR, without the need to download it from github.
yaourt -S yoimnotpro

Requirements
python2
python2-gobject
webkitgtk
pywebkitgtk
Conclusion
This small application can help users on ArchLinux or derivate to easily install the most common applications, and if you are interested in contributing, there is an interesting thread about this on Manjaro forum
Popular Posts: