Today I want to present you a commercial application, Symphytum, it's developed by giowisys and it costs around 9$ (or 6.7 €), but what can do this application for you ?
Symphytum is a personal database software for everyone who desires to manage and organize data in an easy and intuitive way, without having to study complex database languages and software user interfaces.
In fact collecting data is part of our lives, however, organizing information is not always easy, especially without the right tools. While big companies use notable database management systems with advanced functionality and tailored procedures, many people are still using spreadsheets as a database replacement for personal use, because of its simplicity.
Symphytum it's something much better than a spreadsheet without all the problems that you could have in managing a real database such as Mysql or Postgresql it's a simple application that can be used to create, design and manage a database with a look similar to the program iDatabase for Mac Osx.



Symphytum comes to help as a general-purpose solution to design and manage any kind of database or collection of information.
With it you can design input forms, move and resize fields thanks to the dynamic layout engine.
It's possible to define the database fields as text, numbers, images, files and other control fields.
Basic usage
This is a short guide of what you can do with Symphytum to create a new personal database:
1) Create a new collection, this is in Symphytum a group your structured to put data together.
To create it just click the icon in the upper left area of the window
And give a name to your collection, I named it Linuxaria.
2) Now you have an empty collection with no structure at all, so now you must define the fields, click on "New Field"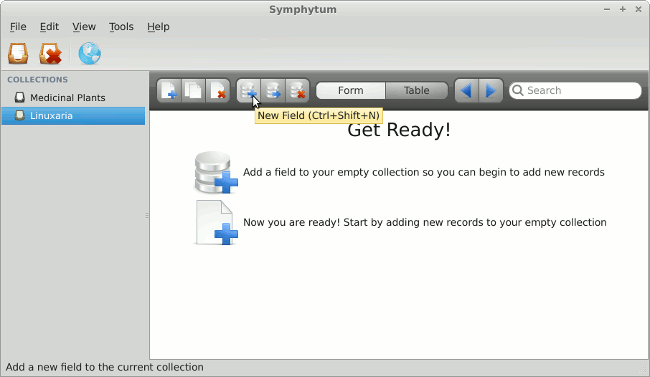 3) Now you can define the first field, input fields have a data type (text, numeric, image…) and delineate how data is presented and inserted.
In my example I've create a simple table with 4 fields:
Name -> Text Field required
Surname -> Text Field required
Date of birth -> Date Field
Photo -> Image Field
You can review your fields clicking on the table tab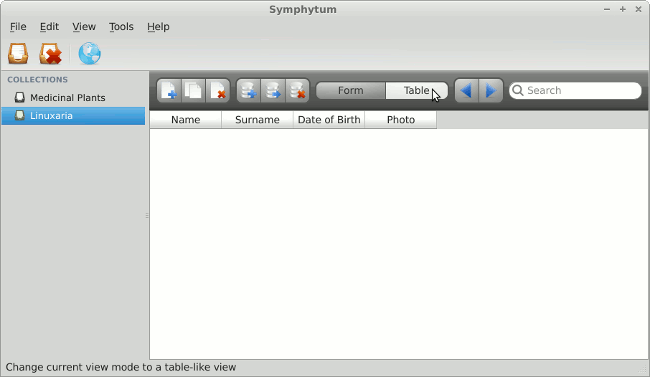 4) Now you can start to populate your collection, to do this click on "New record", you should see something to the following image: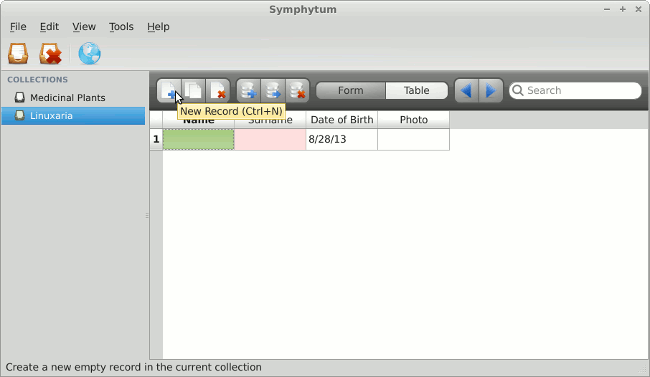 The fields with a red background are the one marked as "required" during their creation, you can insert the information in the "Table" view or in the "Form" view: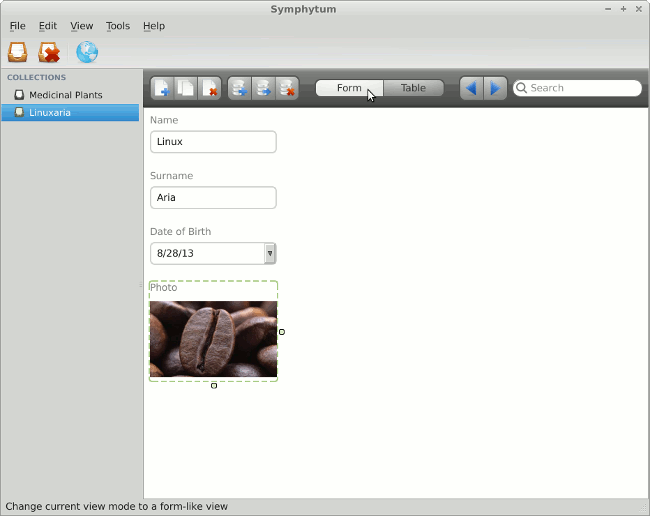 These are the basic function for create a collections and adding records, you can always "Search" in your collection with the search form located in top right of the window.
As plus it's possible to save your data into the cloud with the dropbox plugin to enjoy hassle-free automatic synchronization on all your computers.
Technical Information
The official package on the website it's a .deb for Ubuntu 12.04 (there is a version for 32 and 1 for 64 bit), I've tested the program on Mint 15 (Aka Ubuntu 13.04) without any problem.
The underlying database is provided by the SQLite database management system, which is the leading embedded database solution, used in many mobile apps and modern computer programs, like web browsers, media players and email clients.
SQLite is tiny, efficient and very fast. It can handle huge amount of data while being highly resistant to data corruption and it doesn't require a daemon always running to work.
Popular Posts: