Maybe you are disappointed by Unity and looking for something new? But you would not like to go away from the known Ubuntu environment?
Of course, Ubuntu like any Linux distribution, you can customize the look and the behaviour in the way you want. Depending on the knowledge you have, it will be more or less successfully. Or if you do not have time to adjust, try some of the already finished remaster . You may find some that you will like.
Arios and gNatty are two remaster of Ubuntu using Ubuntu 11.04 as a basis for the operating system.
Arios is configured to be an usable distribution, while gNatty it's just an interesting concept that still needs a lot of work.

AriOS is an easy-to-use operating system based on Ubuntu.
AriOS comes with a unique and optimized interface as well as many extra applications, multimedia codecs, flash and java plugins, and many tweaks!
AriOS is not just Ubuntu+extra programs. It has been carefully designed to help you get productive instantly in a pleasant environment instead of spending a lot of hours configuring your system.
The word "AriOS" could be roughly translated into "The Operating System from the Ancient Persia".
The latest version is 3.0 , and is based on Ubuntu 11.04. With Unity fully ejected.
It's also a good solution for people who do not have, or have very difficult access to the net and as Graphical Environment it uses a combination of Avant Window Navigator, and DockBarX.
Arios as an istance of Avant Window Navigator on the left edge of the screen. Another AWN is in the upper right corner and is used for information and display system status. DockBarX is part of the left-awn and serves as task manager.
When logging in you can choose from three modes.
Arios

 using Compiz

Arios-2D

 using Metacity

Gnome Classic
Other features of AriOS are:
Bleeding Edge Packages: AriOS is not a rolling release distro, but for some apps it uses Getdeb and PPAs instead of official repositories so that you can always have the latest and greatest versions!
Driver Installer: AriOS comes with a handy utility that can install drivers for your video card (Nvidia & ATI) without an internet connection.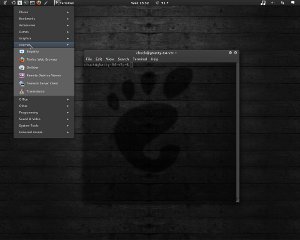 gNatty is a remaster of Ubuntu and uses a completely different approach. It's the standard Ubuntu 11:04 but adds to it Gnome 3.0.
So you can use Unity and Gnome 3.0. When logging in, you pick which Desktop Environment you want. However, this combination is not yet fully stable.
On some computers it may not work. Also, gNatty is not for everybody so be careful! An update may break it so only install it if you know what you are doing and you have exprience with Ubuntu. For this reason, Charles Bowman (who is behind gNatty) recommends you disable the ricotz/testing PPA immediately after installation!
Conclusions
gNatty is not recommend for serious use, Arios looks interesting for is Out of the Box approach and for people without good Internet access, AriOS could be an interesting alternative to other distributions like Mint or Fedora.
gNatty might have a future because it attempts to reconcile two seemingly incompatible interfaces. But currently it is too unstable for anything other than short-term testing.
References:
http://www.linuxzasve.com/
http://www.webupd8.org/


Popular Posts: