I've received an announcement from Jean-Michel Philippe and I gladly publish it:
The whole team is very glad to inform you that DoudouLinux 2.0 Hyperborea is now officially out .

After 2 years of development, this new major version is providing many great new features with fully redesigned advanced activities, new graphics, new applications, a new installer, etc. Available in 43 languages, this release is nearly occurring 3 years after the birth of our project in 2010, which shows the interest our project has gained all around the world.

As usual you can give it a try from:

http://download.doudoulinux.org/

But DoudouLinux is not just a CD/DVD of educative stuffs for children.
DoudouLinux is now a vast project on its own. We have published with version 2.0 a manifesto that defines the philosophy and the ethics of our project: we want our children be able to fully master the digital world they are going to live in, instead of undergoing it.

As a result we now feel very concerned about user privacy, especially when it comes to children.
Let's see some detail of this nice project
DoudouLinux is specially designed for children to make computer use as easy and pleasant as possible for them, while taking care of children self-fulfillment. DoudouLinux provides tens of applications that suit children from 2 to 12 years old and gives them an environment as easy to use as a gaming console. Kids can learn, discover and have fun without Dad and Mum always watching!
DoudouLinux also aims at making computers accessible to all children on earth, with no discrimination, to incite them really master technology – read our manifesto. For this reason the DoudouLinux.org web site lets you download full and free versions and will always do so. No need to ship advertisement, no need of an AppStore, no hidden fee, DoudouLinux is designed by a community of parents for parents and their children. Moreover, DoudouLinux is available in many languages so that each child will feel comfortable when he begins reading.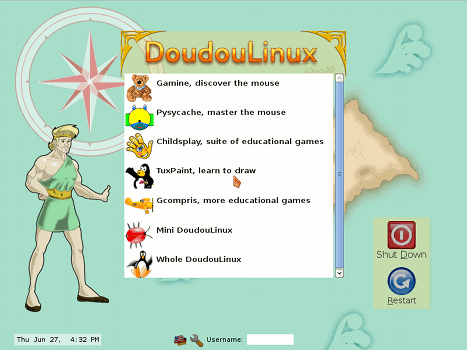 A simple yet efficient environment
The DoudouLinux project considers that current mainstream consumer computing environments do not suit children because they offer too many functionalities and require too much technical knowledge that children don't have. For these reasons, DoudouLinux has built an environment specially for children:
no groping dropping menu
nothing that absolutely must be read
nothing to be placed or (re)moved on desktop
most of DoudouLinux applications do not require the notion of files and folders
application windows do not suddenly collapse into a task bar (there is no task bar!)
no gibberish notification text
does not ask unexpected questions
don't click start to stop!!!
What's new in Doudoulinux 2.0
Reworked interface

There are major changes in this new release: the graphical interface of the most advanced activities, "Whole DoudouLinux", has been deeply reworked. As you can see in the screenshots below, there is now a background image and all the icons on the top of the screen have been much enlarged, while several application icons have been improved to provide a more attractive interface. NB: if you wonder what the role of the flag is in the upper right corner, this is the keyboard layout indicator.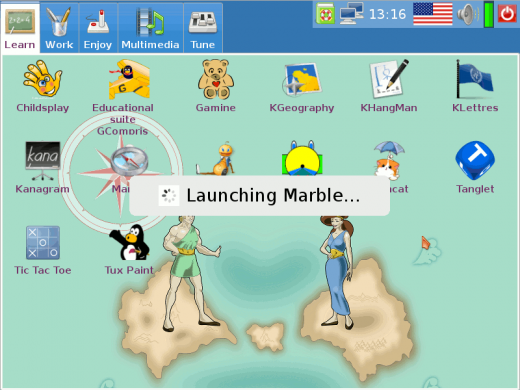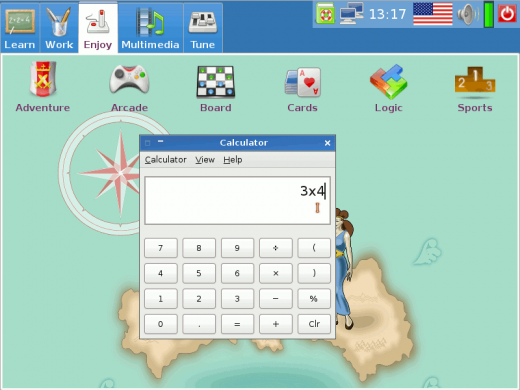 We have also introduced a new tool called unique-launch whose role is to avoid that children start the same application 10 times because it takes few seconds to begin execution, instead of being immediate!
A better Internet experience
The former version of DoudouLinux, Gondwana, was already shipping with parental controls to prevent children from getting undesirable contents from the Internet. This was a good start and even the bare minimum to provide for a computer system targeted at children, but this is not enough. Nowadays, digital equipment are used as Trojan horses to learn more about us, influence our choices and thoughts. To achieve this, digital equipment requires to be connected to the Internet permanently, for various reasons —that are more and more sounding like excuses (who really needs Internet on his fridge or toaster?).
The truth is —our computers are ours and not those of a third-party, so we want our computers to do exclusively what we want them to do. We do not want them to show uncontrolled advertisements, nor to change web page contents depending on who they think we or our children are, in order to change our minds or, on the contrary, to hide from us the diversity of our world (you can read more about these issues on the page Preserving user privacy). Although DoudouLinux does its best to provide educational and enriching activities without connecting to Internet, DoudouLinux can be connected to the Internet and children are very interested in it. We then had to include within DoudouLinux tools that preserve user privacy and prevent third-parties from influencing our children directly in our homes.
As a result, the new release Hyperborea is shipping with:
DuckDuckGo as the default search engine, instead of Google.
Ads and popup blocking activated by default in the web browser, Epiphany.
User tracking code blocking activated, bugs, also in the web browser.
Moreover, the default homepage of Epiphany. As shown below, now displays a portal to ease access to online resources that have a philosophy similar to our project, for example Wikipedia, OpenStreetMap and the Open Clip Art Gallery.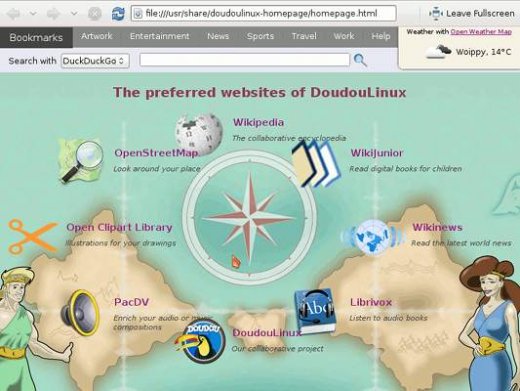 There are also many new applications available in this new release, several things in DoudouLinux 2.0 are now improved concerning local settings and localization and in general the distribution has been updated in many aspects
If you have a child and want to bring it closer to the world of computers and technology in an "open" way, this is definitely a good choice, my sincere congratulations to the entire team for their efforts and the excellent results they have obtained.
Popular Posts: