Guest post by Kerry Blake
If you are planning to buy a new printer and currently using Ubuntu or Linx Mint, the 2 most popular desktop operating systems, next to Windows and OSX, you should probably buy a printer that can hand shake with your Linux box, out of the box.
Computer peripherals like printers, web cameras, scanners, and mobile Internet devices can work on your distro right away like a Mac computer. Both the Ubuntu and Mint community have been constantly adding the necessary packages to their OSs so that all the numerous hardware out there that works with Windows can also work with Linux. You shall take a look at the https://wiki.ubuntu.com/HardwareSupportComponentsPrinters recommended list of printers for Debian-based distros if you want to buy one that works with your machine without having to open the terminal. If you find your printer in this list, you can easily make it work.
Out of the box
If you already own a printer and and just searching for drivers without plugging it to your machine, you should probably first hookup the printer with the machine. Most of the time your Linux machine, especially running on Linux Mint and Ubuntu will recognize your printer and is probably loaded with the right drivers for your printer to work without installing any additional drivers and software. It is also a good thing to update your OS if you still have some pending software updates that you have not quite got around to install.
CUPS
Sometimes your printer might not work with your Linux machine and you will have to install the necessary drivers to make it work like in Windows. Most printer manufacturers have printer drivers for Linux, but, some don't. According the OS platform statistics posted on W3Schools, Linux has 5% and Macs around 10% market share and rest, Windows in the desktops market. With less market share Apple Macs also face peripheral compatibility issue. To tackle this, both Macs, which are Unix-based and Linux, which is Unix-like make use of CUPS (Common Unix Printing System.) CUPS is installed right into Ubuntu and Linux Mint and if for some strange reason can't find it, you can easily install it with the following command.
sudo apt-get install cups
One downside of using CUPS is, you might not find it easy to find out the printer ink level in the cartridge from your Linux machine nor could your find out what is wrong with the your machine or printer ink cartridge because of the lack of proprietary software when it's not working properly. This also doesn't make a big difference if you buy genuine or OEM cartridges from Ink Station, since there is no practical use for the chip in the cartridge. There are some 3rd party softwares that can be an alternative to your printer utility, but we can't be sure if they will work with all the printers.
CUPS has become the new standard of printing in many of the Linux distributions, especially the ones that are Debian-based. With CUPS you are going to use the printing service from your browser since it makes use of the IPP (Internet Printing Protocol). We can even say that with CUPS, Linux now has support for more printers out for box compared to Windows and it is quite easy to add and configure new printers. We will walk you through the steps to add new printer to your computer if they don't seem to work when connected.
1. One can access CUPS with their browser. Fire up your browser and go to the following URL.
http://localhost:631/
2. Now the page would look something like in the image below. As you could have already recognized with the Unity dock on the left, we are running Ubuntu (13.10). You will be able to access CUPS on the same address on Linux Mint, or any other Linux distribution with CUPS as well. Once you are on this page, click on "Administrator", and then click on "Add Printer." You might be asked for username and password of your computer.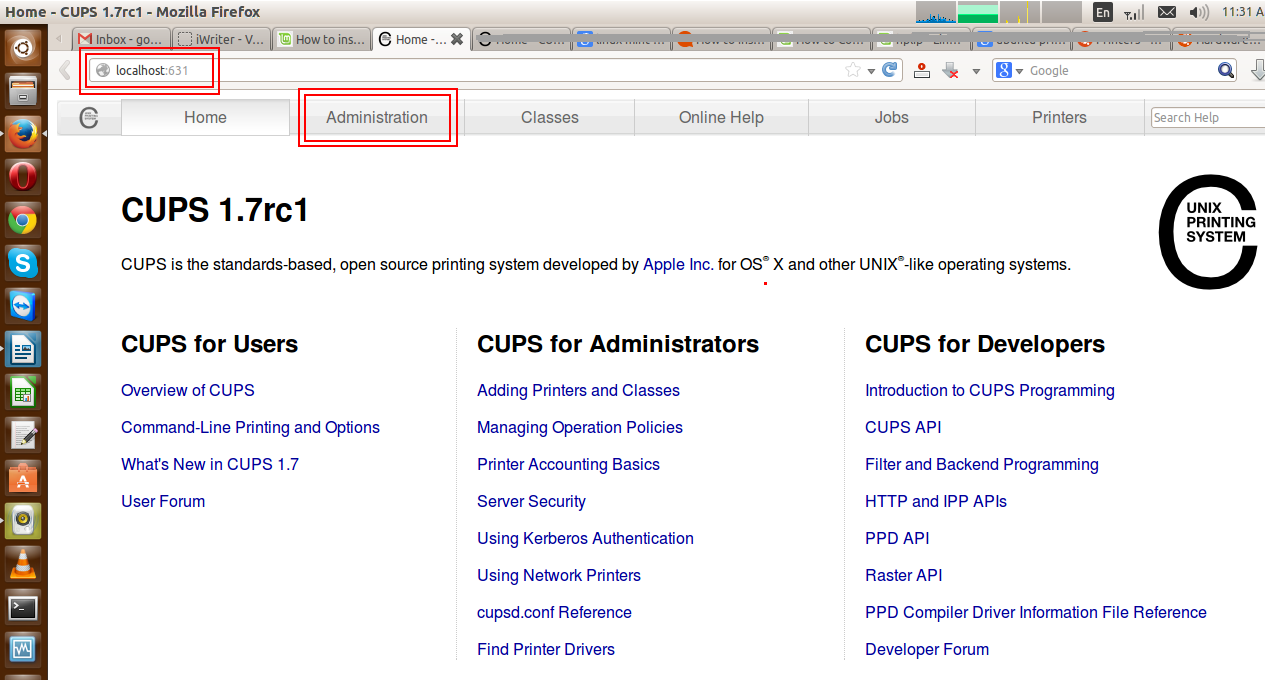 3. In the "Add Printer" page, choose the appropriate option – choose local HP Printer (HPIP) or printer or Other Networks Printers or Select Internet Printing Protocol.
In the connection field you will have to enter the IP address of your printer in the format, socket://hostname and hit continue.
It could look something like this, socket://10.33.20.23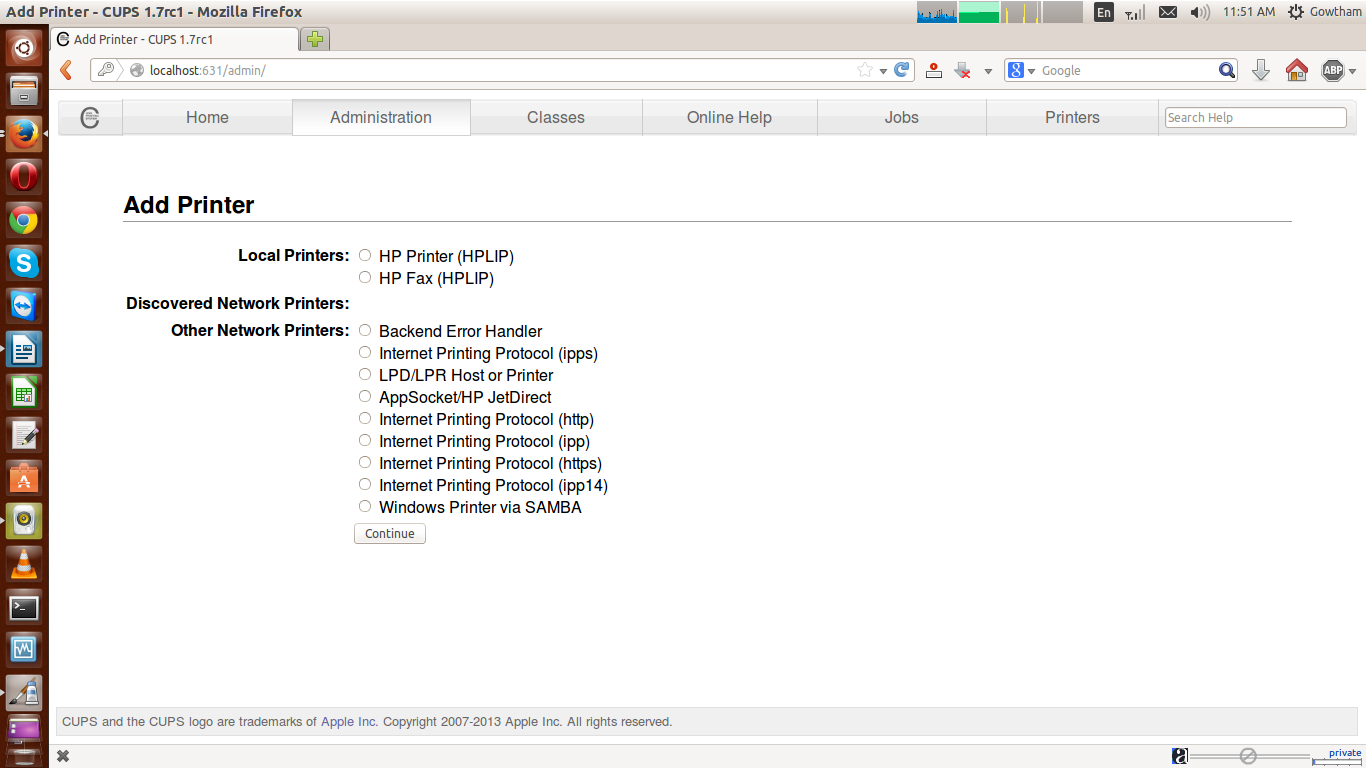 You could find the IP address of your machine, from the printer menu or simply by printing a configuration page. Different printers do it differently, so if you are not sure, how to print a configuration page or where it could be found in the printer's console, refer to the manual that came with the printer or find it online on the manufacturers support website.
If the network printer is connected to a server, then the IP address of the server is going to be the same as the printer's IP, you can find it out by using the following commands in the terminal.
ifconfig
iwconfig
If your network printer is not connected to your computer wirelessly and is connected to the machine using a LAN cable, it will appear in the printer menu or you will be able to find the IP address from your router.
4. In this page you will be asked to give a name, description and location of your machine, you can also choose if you want to share this printer or not with the sharing option. Hit "continue" to go to the next page. In this page you will have to choose your printer manufacturer and subsequently the model and hit "Add printer." You could find almost all the printers in the list, if you don't, you will manually have to add the PPD file, which will have all the information required.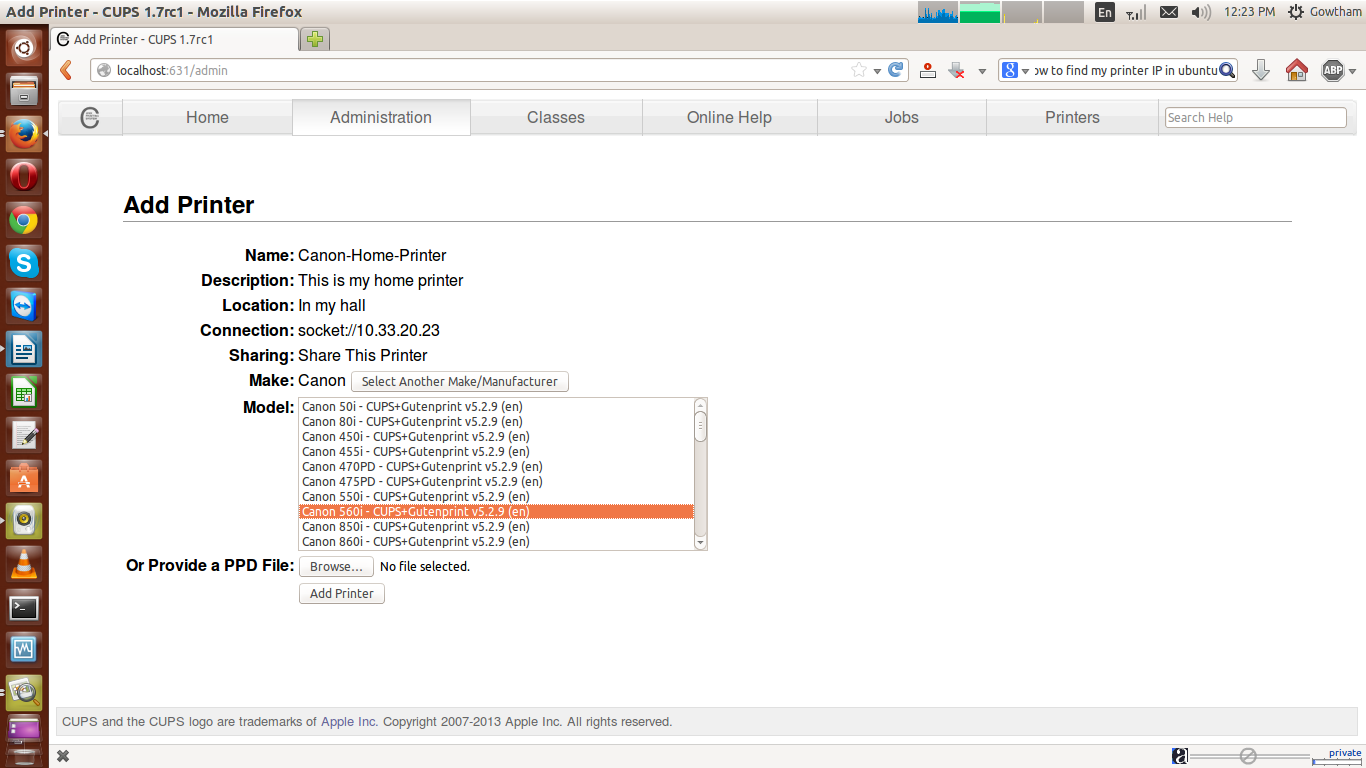 5. At this point you will be able to set the default options and you are in business. Your printer will be ready for use, and whenever you need to print anything you can access your printer from the address
http://localhost:631
Popular Posts: