Today I want to show you one of my essential programs when coding or surfing the net.
Clementine is one of the best audio players, hyper-complete, highly configurable, powerful but easy to use, Clementine Player is simply the ideal for me. Multiplatform, open source and free, it's a real pearl to try without hesitation.
Clementine is a music player and library organizer, It is a port of Amarok 1.4 to the Qt 4 framework and the GStreamer multimedia framework. It is available for Unix-like, Windows and Mac OS X.
Clementine was created because of the Amarok transition from version 1.4 to version 2, and the shift of focus connected with it, which was criticized by many users. The first version of Clementine was released in February 2010
If you had been a Windows user who moved recently to Linux and searching for equivalent to Winamp and iTunes or simply searching for a good tool to organize your music library and enjoy your time, this is an additional reason that this article is for you.



It is not so difficult to find on the Internet, an audio librarymanager or player because there are many alternatives like Amarok and Winamp… but it's hard to find a good library organizer.
Clementine Player is a free software with many features very well implemented. It is inspired by Amarok, focusing on a fast and easy-to-use interface for searching and playing your music. It supports the most commons audio types(mp3, ogg, flac, aac, etc.)..
Interface
The software is built around 4 main areas: the sidebar to choose access to its various media, the navigation pane to select artists, albums and/or titles to add to the playlist, the playlist at the right and finally the play bar at the bottom.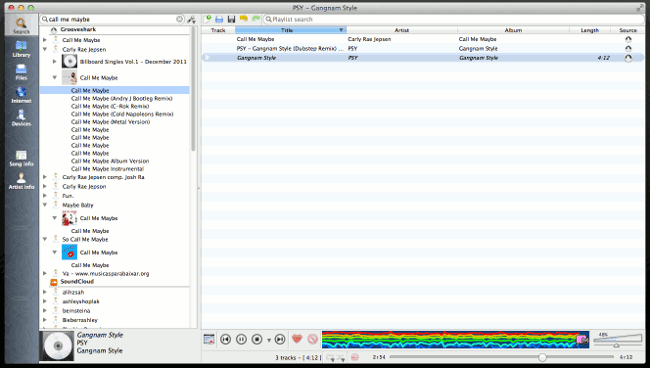 Features:
Simple to use, it will take the user on first boot to choose the files in order to fulfill its music library.

In addition to the library initially created and refreshed on every boot, the user can access to music directly via a file browser or access various online services such as internet radio (Digitally Imported , Icecast, JAZZRADIO.com, Magnatune, Jamendo, SKY.fm, SomaFM).

It provides simple access to paid and free listening services (Spotify, Grooveshark, SoundCloud, Last.fm), and cloud storage ( Google Drive) by offering the feature to connect the software with IDs and passwords, search and play songs.

You can easily create smart playlists and dynamic playlists, and manage them with many options like shuffling, sorting by most played or best rated, using clever Queue manager to choose an order for some songs.

You can simply edit tags of the songs, perform direct changes on a list of songs, and add a cover picture to tracks or download missing album cover art from Last.fm and Amazon.

It is very well integrated to Linux as it shows native desktop notifications using libnotify, and can be controlled rapidly via the sound menu whether in gnome-shell or unity.
Transcode music into MP3, Ogg Vorbis, Ogg Speex, FLAC or AAC.
You can use it to copy music to your iPod, iPhone, MTP or mass-storage USB player.
Installation:
Clementine it's present by default in the repositories of most linux distributions, thus on deb based Linux distribution (such as Debian, Ubuntu and Mint) you can simply install it by typing sudo apt-get install clementine in a terminal.
If it's not present in the release of Ubuntu or Mint that you are using you can just add a PPA and install by typing these commands:
sudo

 add-apt-repository ppa:me-davidsansome

/

clementine


sudo

 

apt-get update




sudo

 

apt-get install

 clementine
Or, if you are using Ubuntu you can find it in the Ubuntu Software Center and install it graphically.
Otherwise, you can download it from http://www.clementine-player.org/en/downloads by getting the suitable version for your operating system.
You have also the ability to download the source code package and compile it yourself, more instructions can be found here http://code.google.com/p/clementine-player/wiki/CompilingFromSource
Conclusion
If you want to learn more about Clementine I think the best way to do it is to try the software yourself and enjoy the experience.
Popular Posts: