Based on the article of Ricky Bracken
Starting an online business can be a daunting task. Once you determine the products or services to sell online you must then select the method to reach the customer and collect payment. As an online merchant your can choose to sell on one of the community based web portals like eBay or yahoo store. However, if you decide to operate your own domain, so you can build brand and company loyalty, you will require a website and shopping cart with an integrated payment gateway.
The open source community provides small business owners with a wealth of products to choose from. Today, open source shopping carts provide the same functionality and capability as commercial products. Although there are many open source products available I will list 6 quality shopping carts based upon their functionality, features, development community support and platform theme availability. this is my short list of the top 6 OS e-commerce solutions:
6 osCommerce
5 Zen Cart
4. Drupal Commerce
3. VirtueMart
2. PrestaShop
1. Magento Commerce
Stable release 3.0.2 / August 6, 2011
osCommerce is the "old father" of open source shopping carts. osCommerce provides the base source code for Zen Cart and CRE Loaded shopping carts.
osCommerce is easy to install on Windows and Linux hosted servers. osCommerce can run in a shared hosted environment.
Version 3.0 has been released on March 31, 2011 and is a major re-write of the program to incorporate an object-oriented backend, a template system to allow easy layout changes, and inclusion of an administration-area username and password definition during installation.
Vulnerability
In August 2011 three vulnerabilities in version 2.2 of the osCommerce system were exploited, allowing the addition of an iframe and JavaScript code to infect visitors to websites. Armorize reports this allowed infected web pages to hit 90,000 in a very short time until it was noticed and increasing further to 4.5 million pages within the space of a week. osCommerce 2.3 was made available in November 2011 and had already patched the exploited security holes.
Advantages: Easy to Install, Significant number of extensions
Disadvantages: Users must spend a lot of time locating and installing the required extensions, not updated
Stable release 1.5.1 / September 18, 2012
Zen Cart branched from osCommerce as a separate project in 2003. Beyond some aesthetic changes, the major differences between the two systems come from Zen Cart's architectural changes (for example, a template system) and additional included features in the core. The release of the 1.3.x series further differentiated Zen Cart by moving the template system from its historic tables-based layout approach to one that is largely CSS-based.
Advantages: Easy to Install, Many osCommerce contributions already installed
Disadvantages: Not all osCommerce contributions will work without modifications, Not Updated
Stable release 2.0.20b / 17 March 2013;
VirtueMart (formerly known as mambo-phpShop) is an open source e-commerce solution designed as an extension of the Mambo or Joomla! content management systems (CMS). VirtueMart is written in PHP and requires the MySQL database environment for storage. It is best suited for low to medium level traffic web-sites.
VirtueMart supports an unlimited number of products and categories, with products able to be assigned to multiple categories. It also permits the sale of downloadable products, and offers a catalog mode where the shopping cart features are turned off. VirtueMart supports multiple prices for a single product, based around shopper groups or a quantity range, and permits the use of a variety of different payment gateways.
Advantages: Easy to Install, Tons of Extensions, Seamless integration with Joomla
Disadvantages: Lacks high end shopping cart features


Stable release 1.5 / February 13, 2013
Drupal Commerce is open-source eCommerce software that augments the content management system Drupal. Within the context of a Drupal-based site, Drupal Commerce presents products for purchase; walks customers through the checkout process; keeps track of invoices, receipts, orders, and payments; facilitates shipping and payment; and performs other functions needed by online merchants.
Like Drupal itself, Drupal Commerce can be extended through the use of modules that add functionality and themes that define visual presentation. There are more than 300 Drupal Commerce-specific modules
Advantages: Easy to Install, Tons of Extensions, Seamless integration with Drupal
Disadvantages: Lacks high end shopping cart features
Stable release 1.5.5 / August 31, 2013
PrestaShop is a free, open source e-commerce solution. It supports payment gateways such as DirecPayDirecPay ,Google Checkout, Authorize.Net, Skrill, PayPal and PayPal Payments Pro (Direct) via their respective APIs. Further payment modules are offered commercially.
PrestaShop is available under the Open Software License and officially launched in August 2007. The software, which is written in PHP and based on the Smarty template engine, is currently used by 150,000 shops worldwide. MySQL is the default database engine. PrestaShop is the winner of the 2010 and 2011 Best Open-source Business Application awards.
The PrestaShop group was founded in Paris, with a second office opened in Miami in 2011.
The software makes extensive use of AJAX in the admin panel, while module blocks can be easily added to the store to provide extra functionality; these are normally provided free of charge by independent developers.
The makers of PrestaShop have an official marketplace for priced modules and themes entitled PrestaShop Addons.
There are a number of volunteers who support and contribute their own Addons to PrestaShop. Contributors often program additional features for the software, on top of the 310 features available by default.
Advantages: Easy to Install, Growing Development Community, Many extensions
Disadvantages: Some of the most useful extensions are not free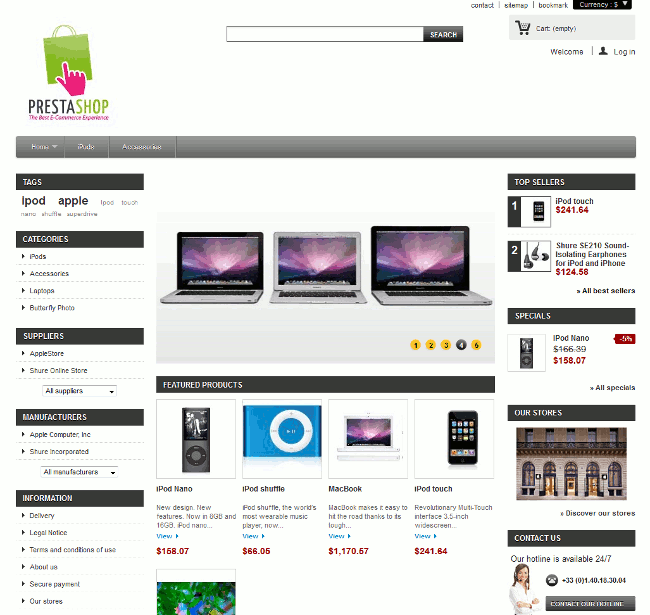 Stable release community edition 1.8.0.0 September 25, 2013
Magento is an open source e-commerce web application that was launched on March 31, 2008. It was developed by Varien (now Magento Inc) with help from the programmers within the open source community but is owned solely by Magento Inc. Magento was built using the Zend Framework. It uses the entity-attribute-value (EAV) database model to store data.
The Magento Community Edition is the only free version of Magento available.
Features:
As an e-commerce platform, Magento allows for features including product display options, mobile templates, transaction options, multi-store and multi-site functionality, user accounts and loyalty programs, product categorisation and shopper filtering, and discount and promotion rules.
As a web platform, Magento uses its own model-view-controller (MVC) model. The differences between the traditional model and Magento's model are the following:
The use of a layout file to control what's displayed on each view.
The use of "blocks" that can be inserted into any view easily via the layout.
The use of a model re-write system.
The use of plugin architecture on Zend based Observer pattern.
Advantages: Multi-Store Support, Active Development Community
Disadvantages: Could have performance problems in shared hosting environment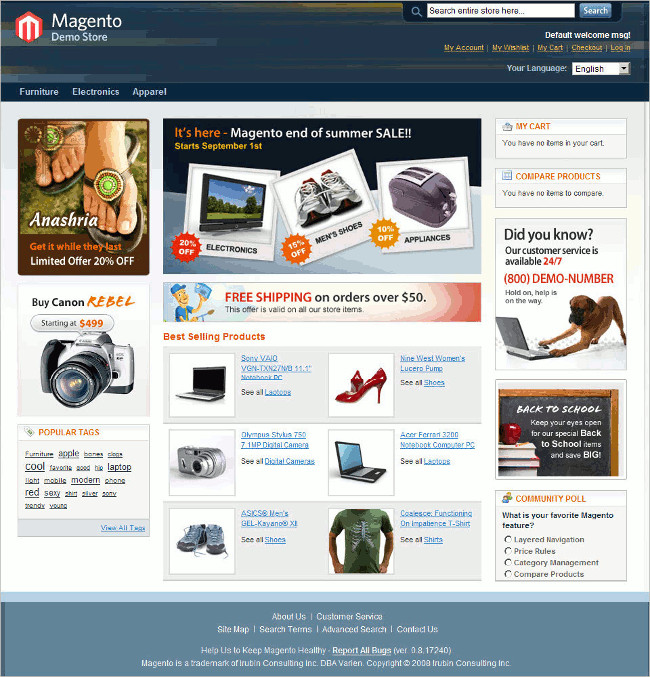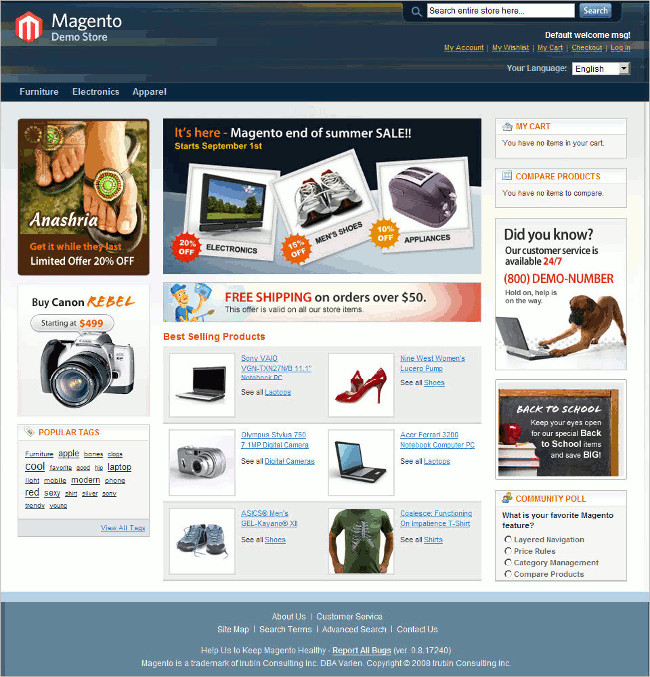 Conclusions
As a rule of thumb, merchants should consider the following factors when selecting an open source shopping cart:
· Cost (startup and recurring)
· Number of supported products (prefer unlimited products)
· Administration screen ability to edit products in order
· Support to import spreadsheet into the database
· SEO Tool for Meta Tags and URLs
· Web Hosting Requirements
· Payment Gateway Support
· Mobile Phone Option (more customers are ordering from their mobile device)
Popular Posts: